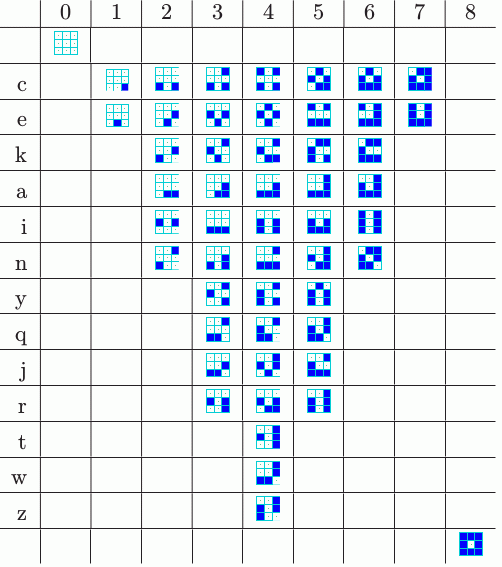 DDLab's implementation of Hensel's matrix


DDLab's native rcode lookup-table as a bitstring in 8 rows (for the Sayab rule). The diagonal symmetry in each 8x8 block is a necessary (but insufficient) indication of isotropy.
EDD#16.10.3 Hensel notation for Golly (for 2d binary v2k9 (3×3) CA only)
Binary 2d isotropic rules with a Moore neighborhood

(v2k9 3×3 rcode), also refered to as "non- totalistic", can be saved/loaded using the Hensel notation, which is compatible with "Golly", software used in the game-of-Life community. The Hensel notation is an ascii string (based on an extention of the Birth/Survival notation) derived from a matix of the number of live cells in the outer neighborhood (columns) and a classification of the appearance of pattern types (rows) denoted by the characters "c,e,k,a,i,n,q,j,r,t,w,z".

The figure on the left shows DDLab's implementation of Hensel's matrix, from which the ascii notation is derived. Each neighborhood pattern is the prototype of an isotropic group, where columns show the number of live cells (excluding the center), and lower case letters mark rows according to an appearance classification. These prototypes are equivalent to Hensel's, but sometimes differ because in DDLab the lowest decimal equivalent is taken as the prototype. These decimal equivalents result from the sum of live values in the neighborhood calculated thus:


DDLab translates its own (isotropic) rcode encoding (EDD#16.16) into two such matrices, one for birth and one for survival. With some further refinements, an ascii string is constructed from these matrices defining the rule, which may form part of Golly's *.rle file. For example, the Golly *.rle script,

x = 92, y = 47, rule = B2cei3eq4qt5cy6n/S12an3acejy4ijn5jy6-ek8
2o$2o2$90b2o$90b2o40$46b2o2$46bobo!

includes the rule's Hensel string (top) and the initial state (below). The rule can be saved/loaded in DDlab as a *.hen file (enter H at >iso-I/H/* in EDD#16.4.1). The initial state "run-length" encoding can be saved/loaded in DDLab as a *.gly file (enter G at Golly-G in the seed prompt in EDD# 21.1, 21.11).

The example is for the Sayab rule and its glider-gun.