Robin Banerjee's Sociogram Tools




What is a sociogram?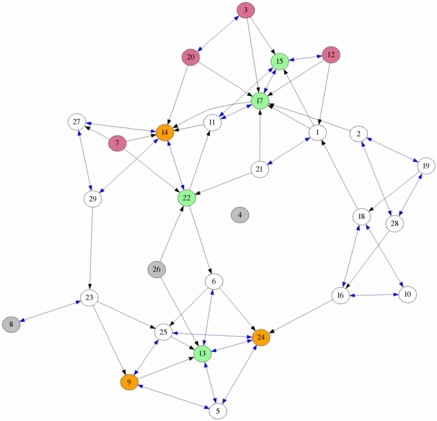 A sociogram is a visual representation of interpersonal relationships within a group.

It can be especially useful in an educational context, in order to help teachers and other staff understand more about pupils' peer relationships. It is often a useful starting point for identifying and addressing the social and emotional needs of pupils.

Sociograms are made on the basis of pupils' nominations of classmates in response to questions. The exact wording of the questions can vary depending on interests, but a common scenario involves asking pupils to nominate three classmates with whom they

most

like to play/spend free time and three classmates with whom they

least

like to play/spend free time.
Recording the positive and negative nominations received by each pupil helps staff to be aware of patterns of acceptance and rejection within the peer group. The sociogram reveals the peer group dynamics of a class or other pupil group in a visual and accessible way.

Note: The Sociogram Tools on this website are based on over three decades of work on sociometric procedures, and provide a simple implementation of very widely-used nomination procedures for capturing levels of acceptance and rejection within the peer group. For further reading on sociometric approaches to children's peer relations, see the following examples:
Banerjee, R. (2002). Audience effects on self-presentation in childhood. Social Development, 11, 487-507
Banerjee, R., Watling, D., & Caputi, M. (2011). Peer relations and the understanding of faux pas: Longitudinal evidence for bidirectional associations. Child Development, 82, 1887-1905.
Caputi, M., Lecce, S., Pagnin, A., & Banerjee, R. (2012). Longitudinal effects of theory of mind on later peer relations: The role of prosocial behaviour. Developmental Psychology, 48, 257-270
Coie, J. D., & Dodge, K. A. (1983). Continuities and changes in children's social status: A five-year longitudinal study. Merrill-Palmer Quarterly, 29, 261-282
Coie, J. D., Dodge, K. A., & Coppotelli, H. (1982). Dimensions and types of social status: A cross-age perspective. Developmental Psychology, 18, 557-570.
Gifford-Smith, M. E., & Brownell, C. A. (2003). Childhood peer relationships: Social acceptance, friendships, and peer networks. Journal of School Psychology, 41, 235-284.
Newcomb, A. F., Bukowski, W. M., & Pattee, L. (1993). Children's peer relations: a meta-analytic review of popular, rejected, neglected, controversial, and average sociometric status. Psychological Bulletin, 113(1), 99-128.
---

What is a sociogram? (Current Page)

Administering a sociometric survey (Next Page)

Creating your sociogram


Go to Robin Banerjee's Homepage
Email: robinb@sussex.ac.uk